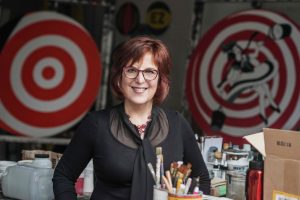 TORONTO (Oct. 29, 2015) — The Gershon Iskowitz Foundation in partnership with the Art Gallery of Ontario (AGO) is pleased to announce that Victoria-based artist Sandra Meigs is the recipient of the 2015 GERSHON ISKOWITZ PRIZE AT THE AGO. The award, which is presented annually to an artist who has made an outstanding contribution to the visual arts in Canada, includes a $50,000 cash prize and a solo exhibition at the AGO, coming in 2017.
Sandra Meigs' work has been described as expressive, eclectic and interdisciplinary; her paintings are known for their unique approach in combining complex narratives with comic elements in large scale works such as The Basement Panoramas andStrange Loop. She is dedicated to painting and refers to the possibilities of enchantment that painting presents through colour and form. For Meigs the very authenticity of one's experience offers proof that what is imagined when looking at a painting is as real as anything else that one experiences in the world.  In addition to painting, she has also woven sculpture, film, sound, and other media in her works.
A recipient of a Governor General's award in 2015, Meigs' exhibition history is extensive, with over 40 solo and 60 group exhibitions in Canada and abroad. Solo exhibitions include Mercer Union and The Power Plant, Toronto, the Art Gallery of Greater Victoria, the Musée Regional de Rimouski, Carlton University Art Gallery, Ottawa, Contemporary Art Gallery, Vancouver and the Musée des Beaux arts de Montreal.
Group exhibitions have included the Sydney and Bologna Biennales, the National Gallery of Canada, Walter Phillips Gallery in Banff, the Vancouver Art Gallery, the Art Gallery at UQAM, Montreal and The Ydessa Hendeles Foundation, Toronto. Meigs' work is in the collections of the National Gallery of Canada, the Art Gallery of Ontario, the Banff Centre, the Canada Council Art Bank and the Musée d'art contemporain de Montreal as well as private collections.
Jurors for the 2015 prize included Kim Adams, artist and a previous recipient of the Prize; Musée d'art contemporain de Montréal curator Lesley Johnstone; collector Jay Smith; and curator/critic Sarah Milroy. Milroy and Smith are both trustees of the Foundation. According to Johnstone, "Sandra Meigs is a highly creative artist whose projects blend painting, sculpture and performance in a manner that is all her own. Comical and sad, materially rich and socially engaged, psychologically intense but also somehow playful, her work continues to surprise us with each new project. Hers is a unique voice and her influence within the Canadian art milieu is strongly felt."
"Sandra Meigs is an innovative contributor to the Canadian art world, and her unique vision has rightfully earned her a space on the international stage," says Stephanie Smith, the AGO's Chief Curator. "Primarily a painter — and one with an exquisite touch — Meigs makes vivid, playful, and inventive works that challenge and delight.  The AGO is pleased to collaborate with the Gershon Iskowitz Foundation to present this prize to an extraordinary Canadian artist, and we welcome the opportunity to display an exhibition of her work in the future."
More details about the Meigs exhibition at the AGO in 2017 will be announced as they become available.
ABOUT SANDRA MEIGS
Born in Baltimore in 1953, Sandra Meigs studied at the Rhode Island School of Design, the Nova Scotia College of Art and Design (B.F.A. 1975) and Dalhousie University (M.A. 1980).  She has lived and worked in Canada since 1973 and for the past 23 years has taught in the Visual Arts Department of the University of Victoria.
Meigs is represented by the Susan Hobbs Gallery in Toronto which has presented her installation and painting projects since 1993.
Image by Studio 282 Photographic, Victoria