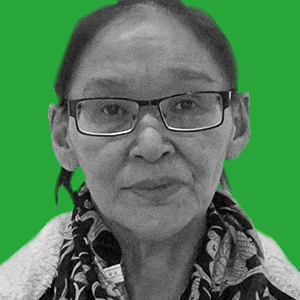 2018
Shuvinai Ashoona Born 1961 in Kinngait (Cape Dorset), NU
Laced with the effects of displacement wrought by a colonial regime, her drawings typically harness difficult realities with an optimistic framework of a brighter future to work toward.
"Shuvinai went walking by the frozen sea, looking at things that were invisible to me… So much to be found, the search is never done…"
These lyrics, by Canadian musician Kevin Hearn (of Barenaked Ladies fame), are dedicated to Shuvinai Ashoona, composed after his life-altering experience in 2014 of visiting the community of Kinngait, on the southern edge of Baffin Island, the home of Shuvinai since her birth there in 1961. They speak to her extraordinary ability as a creative individual to closely observe and synthesize the tangible and the intangible. A third-generation artist, she learned to draw from her grandmother and other elders, and since 1993 has had a daily practice at Kinngait Studios, a community-run space where Inuit artists make prints and drawings that the West Baffin Eskimo Co-operative sells in the south. In the art world, drawings are often viewed as part of a preparatory process for realizing an idea in another medium rather than as the focal point of a career. But in this modest building, in her small community within the sparsely populated territory of Nunavut, Shuvinai uses the simple tools of pens, pencil crayons and markers to create exceptional drawings that are indeed major works of art. They merge the legends and realities of Inuit living off the land—as Shuvinai did for many years of her youth—with elements of the popular culture of the south, which arrives to the artist largely via films and television, all filtered through a remarkably fertile imagination.
In viewing Shuvinai's work, which alternates between an ambitiously large and a wonderfully intimate scale, one is able to gain an impression of her land, her community, her values and her vision of worlds that do, and might, exist. We see portraits of people—family, friends, community members and others—whose skin colours are as varied as the rainbow. We feel her love and respect emanating from depictions of the land and its spirits and creatures that have provided sustenance for Northern Peoples for millennia, as well as feel dread at the suggestions of its excruciating response to global warming. And we perceive emotional turmoil, which is frequently overridden by a fiercely positive female spirit that is at turns uncanny and nurturing, giving birth to globes that are worlds of new possibility. Laced with the effects of displacement wrought by a colonial regime, her drawings typically harness difficult realities with an optimistic framework of a brighter future to work toward. Shuvinai's path forward offers a different social order with fantastical possibilities governed by an overriding harmony. Teeming as she is with enormous curiosity about the world, it is no wonder that, as Kevin Hearn observed, as "she goes walking in the midnight sun," Shuvinai's "search is never done."
Shuvinai Ashoona's artwork has become increasingly visible in contemporary art discourses over the last two decades, and in 2009 its presentation met with palpable excitement when it featured in an exhibition at Toronto's Justina M. Barnicke Gallery, in which curator Nancy Campbell paired it with the drawings of Shary Boyle, another powerful force of expressive imagination. Following in the steps of her cousin, artist Annie Pootoogook, Shuvinai presented work in this exhibition, and those that have followed, that represents a significant departure from the conventions of traditional Inuit art. Indeed, with Shuvinai's inclusion in exhibitions and collections across the country (at the McMichael Canadian Art Collection, National Gallery of Canada and Art Gallery of Alberta, to name only a few) and abroad (Mass MoCA, SITE Santa Fe, Art Basel), her drawings have resonated across Canada and around the world with a distinct and visionary voice worthy of celebration and sustained recognition.
Daina Augaitis
Daina Augaitis
Sandra Meigs
Robert Enright
Stephan Jost

Bones and Bones and Bones of Bones, 2018
All images courtesy of the artist and Feheley Fine Arts, Toronto
The information is current to the date when the artist received the Prize; for current information, please see the artist's and/or gallery's website.