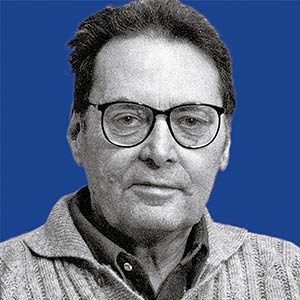 2000
Paterson Ewen Born 1925 in Montréal, QC… died 2002 in London, ON
Robustly scaled paintings, simplified in form, communicated the elemental power of a world of movement, combustion, and raw energy.
In 2000, five jurors gathered in the downtown Toronto offices of the Gershon Iskowitz Foundation to select a worthy recipient for that year. We set ourselves few parameters, yet the question quickly came down to the distinction the prize wanted to make between a younger developing artist and a senior figure seen as a generational influence on other artists. We went the route of well-earned wisdom, and selected Paterson Ewen.
An unusual aspect of the prizes awarded in Canada is that they focus on optimism and potential and tend to lean toward the recognition of an artist in formation, emerging into the world filled with promise. The acknowledgement of senior figures is relatively rare, perhaps because the view seems so retrospective. Younger artists can use prizes to leapfrog into the future; more senior figures have a more quiet recognition. As the modernist painter Goodridge Roberts once said, roughly paraphrased: it's easy to be a senior artist in Canada, you just have to keep painting, because everyone else stops.
When Paterson was awarded the Iskowitz Prize, he was 74 years old. He had won few prizes—no Order of Canada, no Governor General's Award, no biennial prizes—but nonetheless he stood as a towering figure. Respected by many, and a mentor to a generation of makers (some of whom he taught at the University of Western Ontario and at the Nova Scotia College of Art and Design), Paterson was a Canadian artist with a broad international reputation. His breakthrough works in plywood, where marks were gouged from the surface with a variety of tools and cut-out images were nailed and stapled to the surface, hovered between the worlds of painting and sculpture. Images rendered on a flat surface with the extraordinary body and substance of three-dimensional materials spoke a new language, which at once conjured up the look and feel of the Canadian landscape in a way that was new.
When he was awarded the prize, Paterson was very active in his studio, entering a last great phase of work. Robustly scaled paintings, simplified in form, communicated the elemental power of a world of movement, combustion, and raw energy. His images, at that stage, were directly urged from materials such as rope, nails, fencing, and cut aluminum, which spoke of the energy within natural forms as much as the surface appearance of things. This energy, escaping from form, allowed us to see his achievement as a true extension of the more conventional traditions of Canadian landscape painting.
The jurors agreed that his contribution seemed both monumental and overlooked, and we felt, in some measure, the pleasure of knowing we were righting some small art-world injustice. He was working the day the phone call came to tell him of the prize, and he was absolutely surprised. Paterson was thinking about his work, not his recognition, that day—such focus made him the artist he was.
Matthew Teitelbaum
Roald Nasgaard
Margaret Priest
Stephen Smart
Jay Smith
Matthew Teitelbaum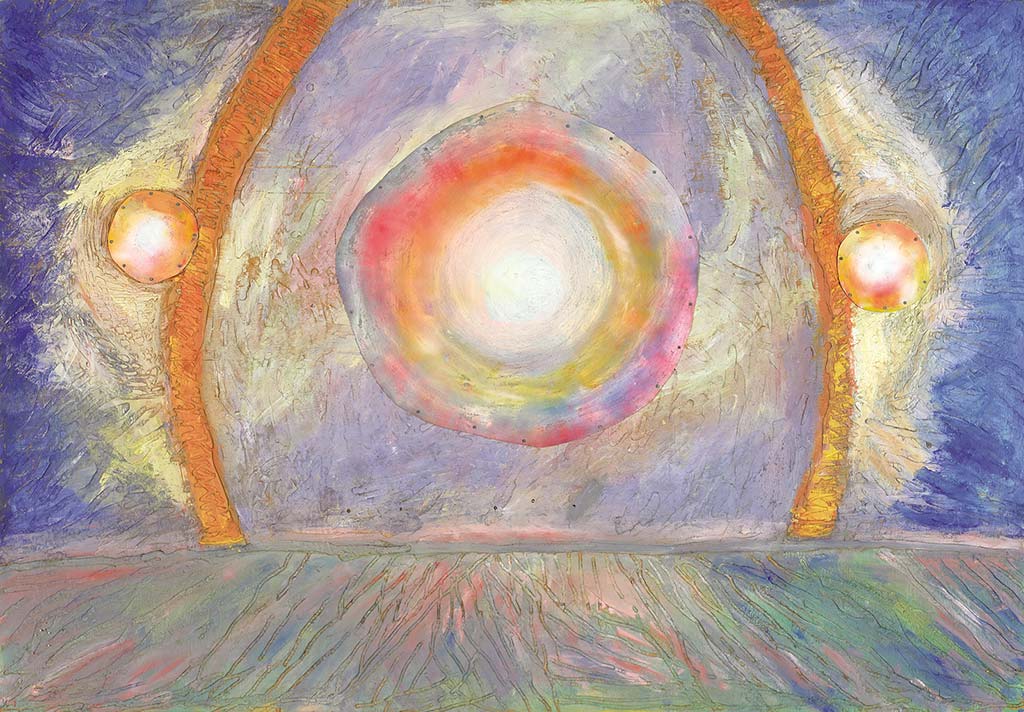 Sun Dogs, 1989
All images © Mary Alison Handford
The information is current to the date when the artist received the Prize; for current information, please see the artist's and/or gallery's website.