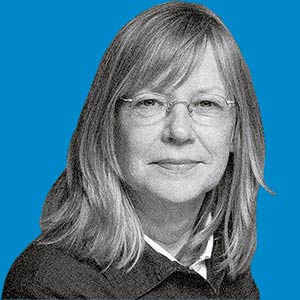 1998
Shirley Wiitasalo Born 1949 in Toronto, ON
Often, a single colour, loosely brushed, fills the picture plane, grounding the surface on which a few lines or a few strokes of contrasting colour conjure an image.
When the jury sat down to choose the winner of the 1998 Gershon Iskowitz Prize, the possibilities were wide open. The artists we discussed included not only painters—though they were in the majority—but also photographers and artists working in three dimensions. What they all shared was a sustained, and to our minds, impressive ability to grapple with the creative demands of visual language, a "will to form" according to the Nietzschean formulation used in the notes of our meeting. Re-reading those notes now, I see that Shirley Wiitasalo's name came quickly to the fore: for her amazingly economical work, for the casual, almost effortless way she could make images emerge, and for her luminous colour. We noted the careful balance in her paintings, her dream-like, evocative image-making, and, above all, the consistent commitment and quality of her work.
For most of her career, which has spanned more than thirty years, Shirley Wiitasalo has been a representational painter, one whose images, however tenuously, are related to appearances. Yet from its beginning, Wiitasalo's work has set itself apart from those media that transcribe or register the external world (although she has commented abundantly on them, especially in her work from the early 1980s) through her preference for imagery in which multiple levels of reality intersect. If one can extract identifiable social and cultural concerns in her earlier paintings, such as the media saturation of the domestic environment or the unbridled real-estate development of Toronto in the 1980s, these subjects were sliced, diced and re-framed by a range of painterly means—thought bubbles, vortices of brushwork, and fields of shimmering colour—that evoked the reflective process of thinking about their effects in purely visual terms.
After the hectic profusion of her earlier work, Wiitasalo's paintings have become more and more concentrated. Often, a single colour, loosely brushed, fills the picture plane, grounding the surface on which a few lines or a few strokes of contrasting colour conjure an image. Their referential content is more elusive, yet focused, like a detail, the part standing for the whole. The ambiguities, distortions, and doublings observed in her work of the 1980s and early 1990s have receded in a Zen-like process of simplification. Yet in looking at these later paintings, however insubstantial they appear, one senses that they are grounded in perception. Artist's Dream (1998) offers an example: devoid of narrative content, a veil of dark brush strokes against a glowing field of blue, now and then coalescing into spots of dense black, it evokes the sensation of seeing at night, when the waking gaze pierces the enveloping obscurity.
Over the last decade, Wiitasalo's painting has teetered on the edge of abstraction. The surface, obviously, is where painting happens, and Wiitasalo's surfaces, while occasionally the place for an abbreviated bit of drawing that brings a figure before our eyes, as in Figure with Blue Arms (2004) or Gesture (2006), have increasingly signalled her interest in pure painting. In their extreme indeterminacy and sheer, evanescent beauty, the shimmering surfaces of her recent paintings, in irreproducible interference pigments, summon up the perplexing uncertainties of her figurative work while enjoining us to immerse ourselves in the momentary experience of seeing for its own sake.
Diana Nemiroff
Roald Nasgaard
Diana Nemiroff
Margaret Priest
Stephen Smart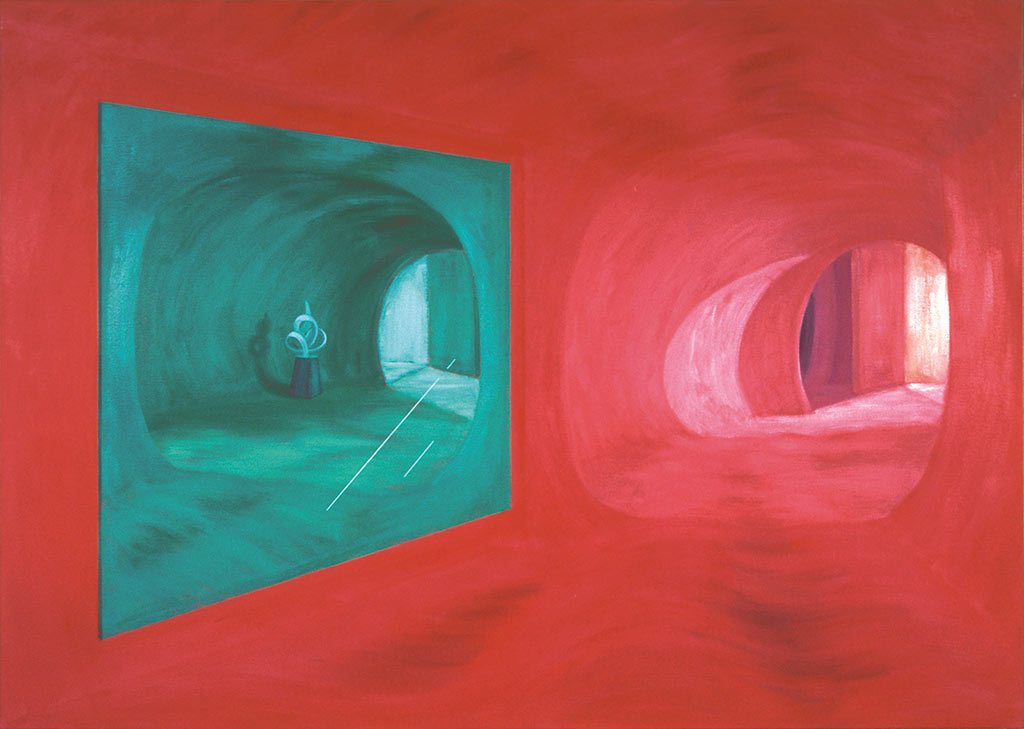 Green Mirror with Sculpture, 1986
Art Gallery of Ontario
All images courtesy the artist and Susan Hobbs Gallery
The information is current to the date when the artist received the Prize; for current information, please see the artist's and/or gallery's website.