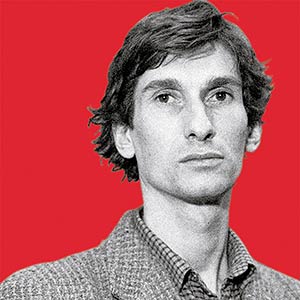 1986
Louis Comtois born 1945 in Montréal, QC… died 1990 in New York
Rigorous in its principles and systematic in its evolution, Comtois' œuvre was dedicated to the contemplative celebration of colour.
Louis Comtois created a body of abstract work that originated in the tradition of the Montréal Plasticiens, and was both enriched by the example of American post-expressionist and minimalist painters, and transformed by an original re-reading of the early masters of the Italian Renaissance. Rigorous in its principles and systematic in its evolution, Comtois' œuvre was dedicated to the contemplative celebration of colour. More than the heir to a tradition, however, Comtois also, in his own way, served to renew it. His paintings, made up of uneven, textured swathes of colour, created from 1983 onward and celebrated in their day, still constitute one of the most remarkable pages in the history of abstract painting in Canada.
It is astonishing, looking back at the history of the Gershon Iskowitz Prize, that Louis Comtois was its first recipient in 1986. The aesthetic tradition in which he worked had largely been eclipsed on the Canadian scene at that time by a formal questioning of traditional practices, undertaken by exceptional artists who were then at the height of their creativity: Jeff Wall, Geneviève Cadieux, General Idea, Betty Goodwin, Irene F. Whittome and others. Even in painting, the late 1980s was characterized more by the return of a critical figuration—embodied here by Joanne Tod, Sandra Meigs or Carol Wainio—than by the persistence of the monochrome. What's more, Comtois—an expat in New York since 1973—had only an intermittent presence in the country. After his touring exhibition, organized by the Art Gallery of Ontario in 1980, he had exhibited his work in Montréal and Toronto, at the Galerie Jollier and at the Ydessa Gallery. In New York, his exhibitions at Louis K. Meisel Gallery had relatively limited influence.
The mandate of the Gershon Iskowitz Prize has never been to sanction a trend or a star. We may presume that the jury saw in Louis Comtois the aesthetic heir to its founder, as evidenced by the fact that the prize was awarded the following year to another exponent of pure colour, Denis Juneau. As anachronistic as it may have been, this choice today seems quite wise. It reminds us that the value of a work is not necessarily a function of its critical or institutional timeliness or its current market appeal. That true creation happens sometimes, even often, on the sidelines of trends or fashion. That an authentically inspired work, even an untimely or romantic one, can touch us more lastingly than a practice that is more in synch with the issues of the moment. Comtois' paintings, especially those he created toward the end of his short life, still resonate with an intensity that even the underlying visual and phenomenological rhetoric cannot explain. Though we may no longer understand this language, the works still speak to us.
Comtois knew he belonged to another era. He himself saw his involvement in contemporary art as a paradox and he deplored that the modern world left so little time for contemplation. In 1985 he explained: "I would like, through my painting, to bring a bit of peace and joy to those few rare people who take the time to look."
Stéphane Aquin
The Gershon Iskowitz Prize was administered by the Canada Council for the Arts.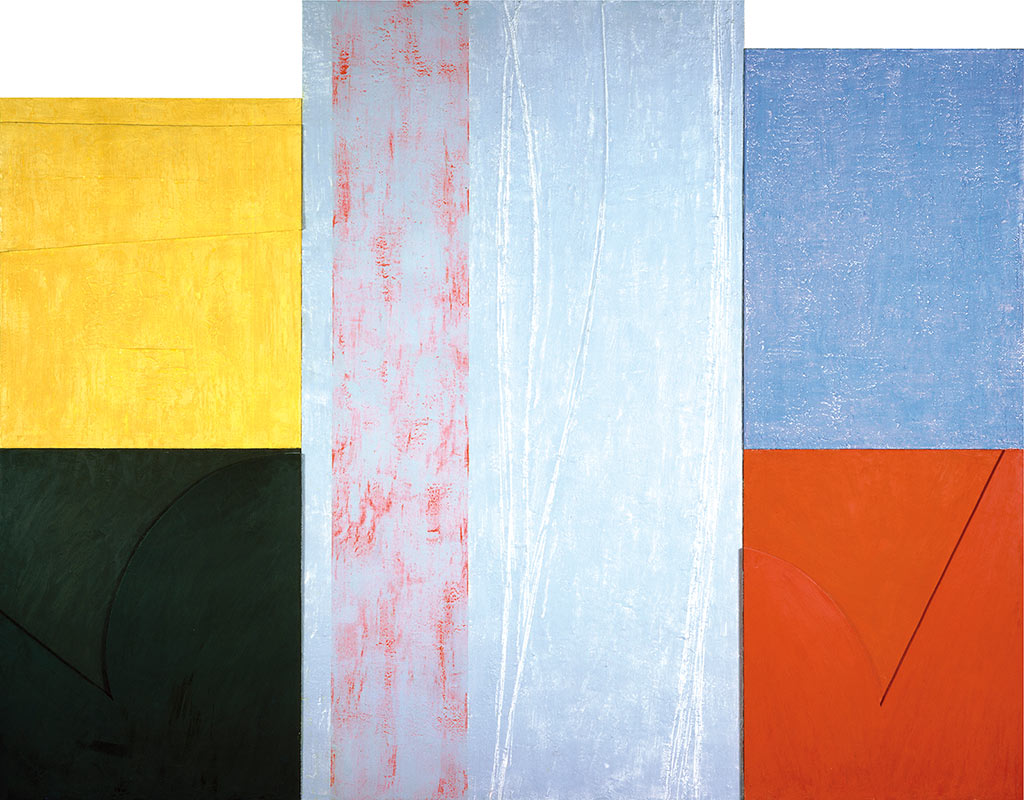 Chromatic Conjunctions, 1987
National Gallery of Canada, Ottawa
Photo: © National Gallery of Canada